Winter has officially overstayed its welcome.
At first, it was lovely. Sparkly, fluffy white snow blanketed Stately Wasser Manor. I'd snuggle inside with the boys and bake things. Jack and I built a Snowmommy and a Snowkid.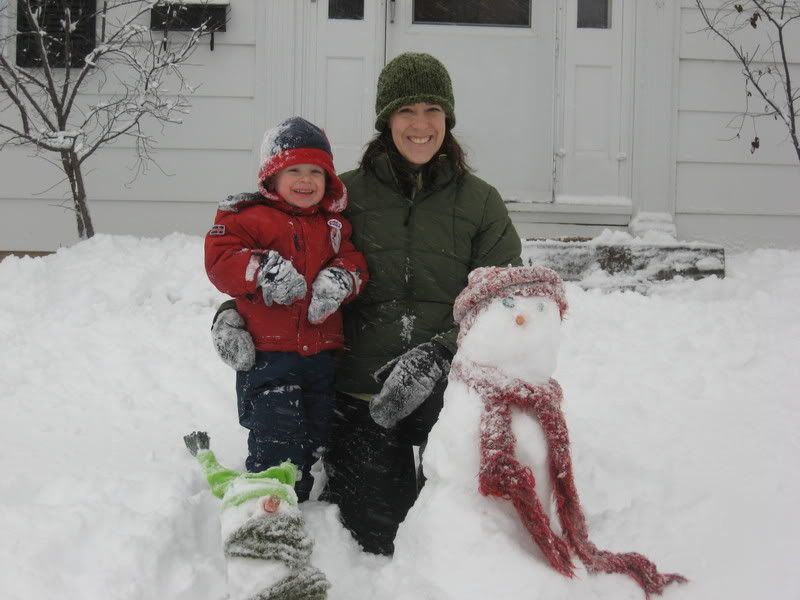 I even discovered the peace of running outside while snow lightly covered my eyelashes.
But you know what? It's March, and I want spring, damnit.
We had a break in the cold on Sunday. It was glorious - I went running outside, in short sleeves. There were rivers of melted snow everywhere, soaking my feet as I went along. I was even bold enough to do something I don't usually do - I bought spring clothes, even though I knew it might be a while until I could wear them. Swirly full linen skirts, the most delicate cardigan in a soft blue, tiny floral prints. I hate buying things only to have to leave them in my closet for weeks, but I just couldn't resist. I was ready to leave behind my sweaters, heavy coats, and boots in favor of lightweight slips of things. And sandals, even if it means having to find time to keep my toenails polished.
The warm weather was a great big tease. It got cold again overnight. And all of those rivers of melted snow have catlicking frozen, which made last night's run into an obstacle course.
The forecasts for the rest of the week are no better. Cold temperatures, chances of snow.
But stil, I am determined to feel hope. Tomorrow, I am going to buy a bouquet of daffodils for my desk. Their sunny color will remind me that the sky will not be grey forever. Spring will come.