Internet, I am starting to believe that all of this running might be good for my legs. Even more astonishly, it seems to be good for my
perception
of said legs.
Witness: when I discovered that the photographer at the Bix had taken the classy "up the running skirt" shot of me headed to the finish...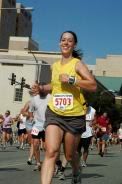 my immediate reaction was
not
to be horrified by the gigantic size of my thighs. Instead, I thought that, while they are enormous, they looked really muscular and strong.
Such delusions, or, if you prefer, increased self-esteem, can be blamed for my decision to purchase the Ridiculously Short Shorts (RSS), which made their debut on Saturday's 18 mile run.
*not my legs. Obviously.
I remain a total Skirt Convert and love my running skirts beyond all measure. However, on incredibly humid long runs, my skirts have been reduced to a sodden mess, clinging to my legs and threatening me with chafing. It's amazing what the fear of chafing will drive me to, because lo and behold, I found myself actually wearing IN PUBLIC, a pair of Ridiculously Short Shorts that are shorter than any shorts I have every worn in my entire life.
The verdict? Once I got over my fear that one of my butt cheeks would escape and greet the world, they were quite comfortable. Almost like wearing nothing, which obviously I almost was.
My time was excellent, perhaps spurred on in some part by my desire to go home and put some pants on. Goal pace: 10:31 per mile. Actual pace: 10:29 per mile. Score!
Besides running with the lower half of my body almost completely exposed, I employed a few additional strategies that helped me.


I drank Gatorade in addition to water.


I put the Gatorade and water in a cooler with ice on my front stoop. For the entire 3 plus hours I was out on the road, my drinks stayed icy cold, which was bliss.


Lately, I've been running my long runs in loops of about six miles. Run 3 miles out, then back home for a drink/Gu/whatnot/walk break. This time, I took short walk breaks every three miles, which made my breaks at the six mile points much shorter.


I packed a bag of Sport Beans in my Amphipod. I ate half of them at mile 9 and half at mile 15. I think they really gave me a boost.