Due to circumstances not of my choosing, I suddenly find myself with a lot of time on my hands. I've been working hard to use that time wisely - taking care of Stately Wasser Manor, running, but above all, spending more time with Jack.
Instead of going to school on Wednesdays, he now spends the day with me. I know that if I left things to chance, Jack and I would wile away the entire day having lightsaber battle-fights and I would completely lose my mind.
This was the inspiration for Betsy-Jack Academy. He may not be going to school on Wednesdays with his friends, but he is spending the day with me learning. I choose a theme for each week and pull together activities, projects, and books to go with that theme. So far we have studied snow, the five senses, and yesterday's huge hit, Fairy Tales.
We start the day with a trip to the Family Museum, where they have an exercise class for kids Jack's age that is completely free. Unfortunately for me, the activity mainly focuses on dance. I suspect that I am objectively the most athletic mom there, but you sure wouldn't know it to look at me when I struggle to touch my toes and repeat my one dance move over and over again. I kept wanting to ask when we were going to do the 400 meter track repeats. To make matters worse, I actually strained my left calf galloping like a horse. But no matter - it's fun to get out of the house and do something active.
After the museum, Jack and I made lunch together. He is very interested in learning how to cook, which is excellent, because as far as I'm concerned one of my main duties as a parent is to make sure I don't raise some dumbass college student who doesn't know how to fold laundry or make anything other than spaghetti and ramen noodles.
Next, we read books. With the fairy tale theme, it was really easy to find great reading material. I was impressed by how quickly Jack understood fairy tales as a literary genre - he came up with the fact that most end with "and they lived happily ever after" all on his own. He also understood that they include elements of magic and often feature princes and princesses and was able to come up with several examples. Future English major? We also talked about how these stories have been told and re-told for a very long time, so there are often different versions of the same story. Again, Jack got the concept right away, giving the example of how, sometimes the Big Bad Wolf eats the first two pigs and sometimes they escape to the third pig's house.
We took a movie break, but that too was within our theme. I rented a DVD of Mickey Mouse Clubhouse stories with a fairy tale bent, which gave us another opportunity to talk about different ways of telling these stories.
The most fun part of our day was Art. First, we made piggy noses for The Three Little Pigs. I cut out pieces of egg carton, then we colored them, added pig nostrils, and I attached elastic to them so they'd go around your head. Jack decided we should make them in all different colors, not just pink, so Jack made a red one for himself, orange for Roary, and so on. Garfield (Roary's daddy) was the Big Bad Wolf.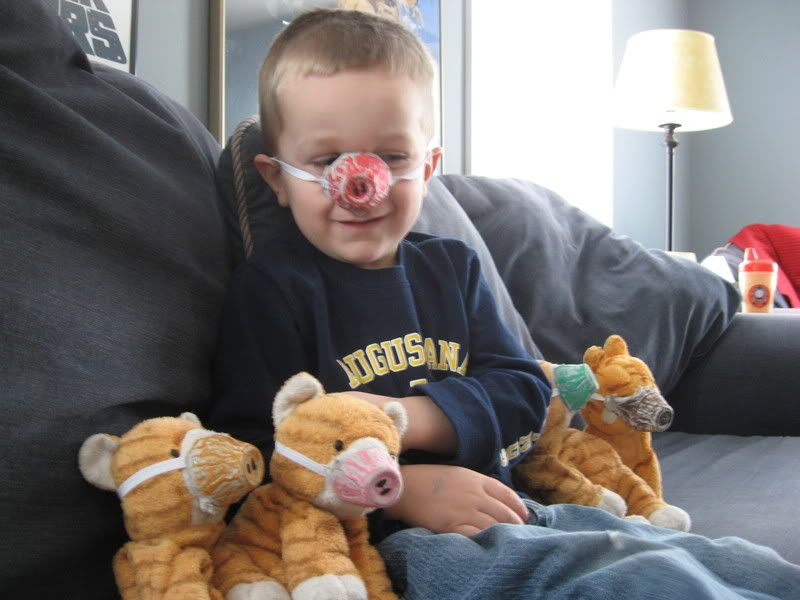 Then we made puppets. Jack has really enjoyed The Frog Prince, so we made the frog, the princess, and the prince.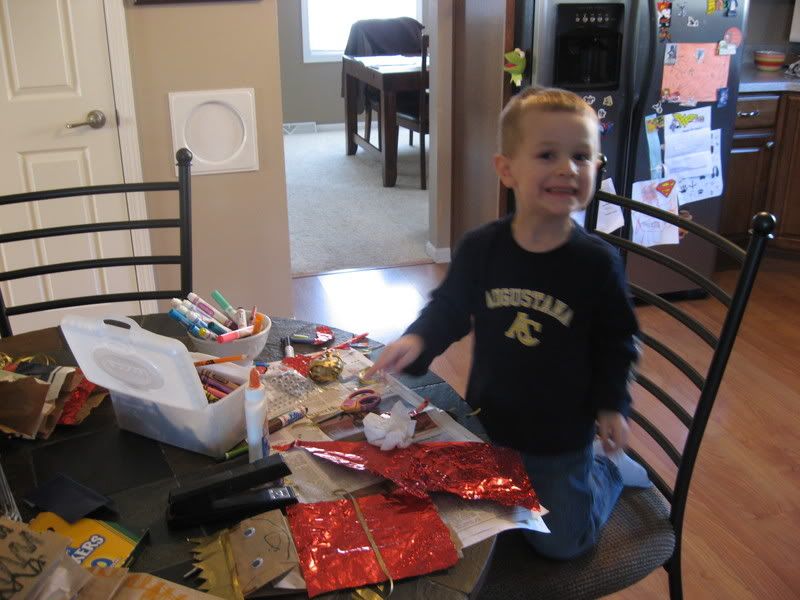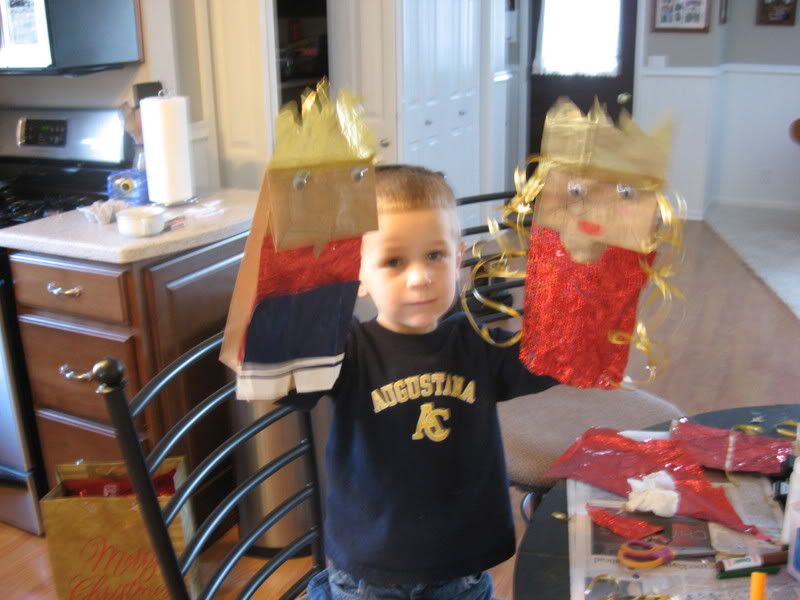 Finally, no Betsy-Jack Academy is complete without some baking. We made sugar cookies in the shape of frog princes (I have a tremendous collection of cookie cutters).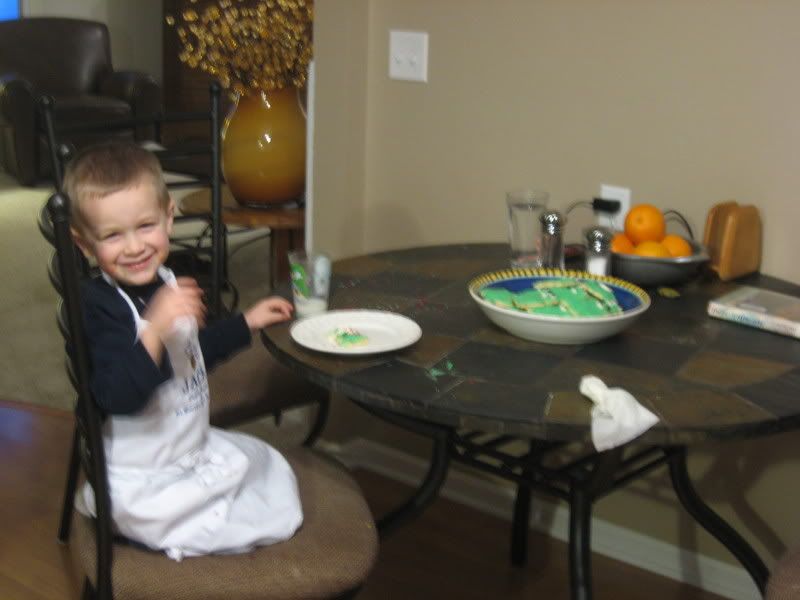 When Steve got home, we presented The Three Little Pigs as a play, starring Emmy as the Mommy pig, Nicey, Roary, and Jack as the three little pigs, and Garfield as the Big Bad Wolf. I was the narrator, but I wore a pig nose of my own. Jack did a fantastic job, and Steve was really impressed.
It was a great day at Betsy-Jack Academy.