It was a big night last night at Stately Wasser Manor, and anticipation was at a fever pitch. It was time for the season premiere of family favorite show
Sesame Street
, and it honestly got the same level of excitement as we'll have for the starts of other favorites like
Survivor
,
The Amazing Race
, and
The Office
.
Not only do we have all new content ahead (no more boring "skin" content on Elmo's World), but we also met a brand new friend, Abby Cadabby.
I'm happy to see that our newest Sesame friend is a girl. Girls are few and far between on
Sesame Street
these days, and Zoe, Rosita, and Natasha need a friend. Besides, I don't want my boy to grow up thinking that all of the cool characters are boys.
Jack was completely transfixed by Abby. He sat quietly on the sofa next to me, grinning around his binky. Then he turned and gave me a huge Binky Smile, as if to say, "Thank you so much for letting me watch this!" I look forward to watching more of the episode tonight.
In other news, I talked to my sister Jenny last night. See how cute and happily pregnant she looks here?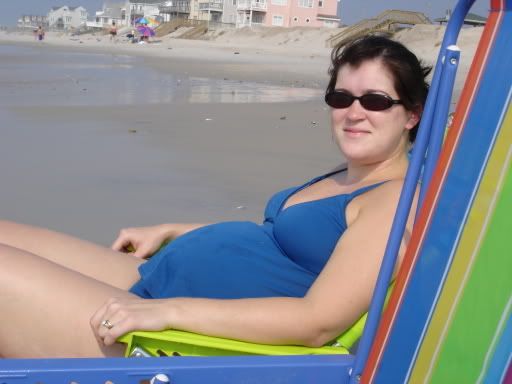 Yeah, those days are over. Her baby's due date is today, and the girl has had just about enough of being pregnant. I had a feeling she might be feeling that way, which is why I actually called my stepmom instead of her, in case Jenny did not want to have the, "Yes, I'm still pregnant" conversation, which gets really tedious. I think she was willing to talk to me because she knew I'd understand that she is generally annoyed and pissed off right now. So come on, baby Riley! Get out here and check out the world. We can't wait to meet you, and you need to be nice to your mommy. She's the lady who's going to feed you.